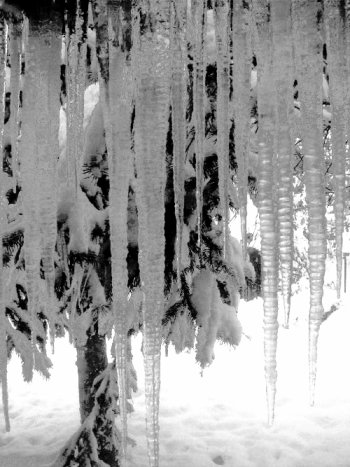 This endless cold weather is really getting me down. It's been almost two months since we had decent, normal temperatures - and by 'normal', I mean 'normal for the time of year'. There was one brief exception, on Friday. The sky turned blue with fluffy white clouds floating about, the sun came out, the temperature crept up... and up... to 9c, and all the birds started to sing for the first time this year. Dave and I strolled round to the High Street at lunchtime and it was just lovely being out of doors without feeling every last calorie of energy was being sucked straight out of you by the cold. Spring might only have been a week or two away.
Sadly, the return to normal parameters didn't last. It's been getting steadiy colder over the weekend and today we're back to what passes for normal this year - 2c. And it's just started to snow.
Last winter was on the cold side but before that we'd had a run of milder winters, and nature made hay while the sun shone. Birds started not just singing, but breeding and raising their young. We had daffodils at Christmas - not here in Brum, but at least in London and along the south coast. Trees and shrubs were showing a haze of green by the middle of March. To hear the experts, you'd think it was the end of the world. Mother Nature was apparently so confused she was never going to recover, and we'd be stuck with the consequences till our dying days.
Well, Mother Nature isn't confused. This year the birds are huddling in corners, fluffing up their feathers and too busy conserving energy to do frivolous things like finding a mate. And there isn't so much as a petal out yet. Not only are the daffodils not in flower, their levels haven't poked through the semi-frozen ground. All of which gives me lots of confidence in nature's recuperative powers... but it does make spring seem like an awfully long way away.