Forgive the long silence but we're just back from a week-long cruise around some of the wilder parts of Scotland and the northern coast of Ireland, operated by National Trust for Scotland (NTS). For some reason this was billed as 'Islands and Intrigue'; the first bit is fair enough since we visited three separate Hebridean islands (and would have gone to a fourth if the weather had been kinder) but we're still scratching our heads over the 'intrigue'. Never mind, it was a super break and allowed us to get to some remote and stunning places that we'd never otherwise have seen:
Greencastle, a small village on the Inishowen peninsular on the north coast of the Republic of Ireland. This is mostly a stopping-off point for bigger attractions such as the city of Derry/Londonderry, and the Giant's Causeway. Given that it bucketed down all day, we decided against sitting on a coach in the rain for four hours and stayed local, pottering round the Maritime Museum (a delightfully quirky collection of bits and bobs including whale bones, boats and amateur rockets) and then walked as far as the ruined castle on the edge of the village. Getting on and off the ship's tenders in a force eight gale was, um, interesting, and some of the passengers had a really hairy time of it, but we made it safely and enjoyed a quieter day.
Islay: One of the inner Hebrides, this is best known for its whisky distilleries, of which there are still about 8 or 9 operational on one small island. Dave is a big fan of Scotch whisky, so we walked the two miles from Port Ellen to Lagavulin, one of the oldest distilleries in Scotland, for a fascinating guided tour. Unfortunately there were absolutely no refreshments on offer (I even had to beg a glass of water) and part way back my blood sugar began to suffer. Luckily a guardian angel, in the shape of Fabian, a young German we'd befriended during the guided tour, came to the rescue as he gave us a somewhat illegal lift back in his car - Dave on the front seat and me on Dave's lap!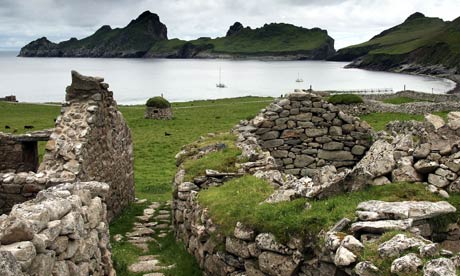 St Kilda. This is a UNESCO World Heritage Site twice over (almost unheard-of) as well as being a National Nature Reserve. It's now owned by the NTS and almost uninhabited since the original inhabitants asked to be re-housed on the mainland in the 1930s. The old village, much of which lies in ruins, stretches in a crescent just above the main bay with volcanic peaks at its back, and apart from a small army base and some NTS scientists and rangers, the only inhabitants are rare Soay sheep and thousands upon thousands of sea birds. I don't think I've ever seen such breath-taking scenery and we were lucky enough to get ashore, explore the village, buy a teddy in the tiny gift shop, take about six million photos, and then have a circumnavigation of the islands in the ship once we were back on board. A truly magical experience.
The Isle of Lewis. The biggest of the Hebrides (as far as my geography takes me, anyway) and an intriguing if somewhat bleak landscape of dark moorland and inland lochs. We joined an organised tour by coach to the famous prehistoric stone circle at Callanish (very atmospheric) and an early medieval stone tower, or broch, at Carloway. This was the only time we ventured on a tour on the whole holiday and we were glad we had, since the only other option was to trudge round the dull streets of Stornoway, the main town on the island. As it was, we saw more of the island, and had a fascinating talk by a tour guide who really knew her stuff since she was a qualified archaeologist. I've wanted to see Callanish for years so this was a real treat for me.
Inverie, a tiny village on the ultra-remote Knoydart peninsular on the coast of Scotland. The whole of this peninsular is cut off from the mainland road system; the only way to reach it is by boat, or by a sixteen-mile slog across some very difficult terrain. I was expecting the village to be primitive to say the least but actually it was a glorious surprise - pretty, welcoming, and set like a jewel in the most amazing surroundings of mountains, woodland and coast. We did a 'Knoydart in a Knutshell' walk from a leaflet, around two and a half miles taking in some of the varied elements of the area, then had a really nice lunch in the local tea shop, before setting off for another two mile hike along the coast, dodging frequent heavy showers of sleet. The icing on the cake was hearing several cuckoos trying to out-cuckoo each other in the surrounding woods.
Rum. The last day should have involved a trip to the island of Rum, one of the so-called Small Isles. Sadly the weather had deteriorated hugely with a Force Nine gale, lashing sleet and snow showers, and a heavy swell on the sea. The captain tried to moor and launch one of the tenders but was beaten back, and every other port he tried was the same story. Even places that are normally dependent on (desperate for) tourists told him to stay away, so in the end he chose a route for the most scenic sailing tour he could find, including a circumnavigation of Rum itself, a sail-by of Fingal's Cave on Staffa, and a cruise up Loch Linnhe as far as Oban. The latter was quite sentimental for us since that's where we spent our honeymoon, but we'd never seen it from the sea before.
All in all a wonderful experience and one we'd quite happily repeat.