Press Release from ERWF Member Kay Derwydd:
"Novel Visions" by Kay Derwydd
Available at Chippewa Publishing
http://www.chippewapublishing.com
$2.00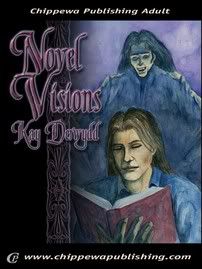 Jonathon Cayle is a horror novelist visiting New Orleans for a two-week long book signing stint. Unhappy with his life back in Atlanta with his girlfriend, he is grateful to be able to explore his preference for men while he's out of town. What he finds in New Orleans, however, is the last thing he ever expected.
**Excerpt**
He sat down on the bed, kicked his boots off, and draped his coat over the end of the bed to let it dry out. The stability of a regular mattress was a welcome relief. He was sick to death of Nadeen's obsession with waterbeds. He switched on the television to the news then began to undress. He only watched the news half-heartedly, feeling a bit out of the loop with the local bits, but he left it on as he went into the bathroom to fill the tub. He had an hour before Jess would be back and a nice soak in hot water would do him some good.
As he sank down into the steaming water, he felt calmness sweep over him. Now this was heaven. No Nadeen, no ringing phones, no socialite visitors; just himself, a hot tub, and the decadence of New Orleans right outside his window. With the soothing effects of the water, he was finally able to think about his next book.
He was in town to do the signings for The Hart Files, but he knew the plotline demanded another book. Rather, the main character demanded another book. Kain Hart: now there was a man to be reckoned with, and what better place to do a book signing for a vampire novel than New Orleans? Jonathon smiled and closed his eyes; if only Kain Hart were real. He chuckled quietly. If Nadeen knew he lusted after men, she would have a fucking heart attack. Jess knew, however, and she was constantly trying to set him up with some cute guy she knew.
Jonathon groaned at the thought of finally touching a man again. The last time he had was nearly a year ago, long before he started dating Nadeen. Within two weeks of the beginning of their relationship, she had made it clear she was not fond of gays and lesbians. Jonathon's heart collapsed in on itself that day, but he stayed with her; only the gods knew why.
As the steam wafted up around him and the tub, Jonathon felt himself drift off to sleep several times. If he had more time, he would give in. Every time he did, he was treated to a delicious dream of Kain Hart, his darkly sensual vampire from his latest novel. Oh, if only he were real. With a Kain Hart to keep him company, Jonathon would never return to Atlanta or Nadeen. He could not help but grin at the thought of the socialite bitch's reaction should that happen. So lost he was in his daydream of Kain, he did not hear the knock on his suite door until the person was nearly banging on it.
****
http://chippewapublishing.com/product_info.php?products_id=65&osCsid=39c41bcf9792a7e07f1c663e8c0f0712