Last weekend a combination of bad weather and sheer laziness meant we spent most of the time cooped up indoors. This weekend we were determined to Get Out, no matter what.
On Saturday we started our Christmas shopping in Kendal. It seemed as though everyone else in south Cumbria had the same idea since the town was heaving, but we got some cards and a few other bits and pieces which is a good start.
The weather had gradually been deteriorating, and by afternoon the skies had gone black and the heavens opened in a series of torrential, thundery downpours that included hail and even sleet. Not the best conditions for walking, but we both had twitchy legs so donned boots, waterproofs and brollies and set off past our local waterfall (which, needless to say, was roaring in a very impressive way) and then back by various footpaths. It isn't exactly a country walk but the autumn colours are spectacular and in spite of getting soaked we rather enjoyed it.
Yesterday was a glorious day from start to finish, so we decided to hang the chores and get our boots back on. We drove round the other side of the lake to do a walk Dave discovered when he was preparing for the Coast to Coast a couple of months ago. This starts in the little village of Far Sawrey (not Near Sawrey which is famous for Beatrix Potter's former home, Hill Top) and follows a stream through some idyllic countryside to a cluster of tarns on the hills above the village. These have the most wonderful names - Moss Eccles and Wise Een - and are surprisingly little-known, which is a shame because the walk is lovely and the reward at the top well worth it. Moss Eccles Tarn was dark and moody, surrounded by trees with only a brief glimpse of the Coniston fells in the background, but Wise Een Tarn was set like a jewel in open heathland with spectacular sweeping views of most of the central fells, from the Langdale Pikes right round to Wetherlam. And the highest tops were dusted with snow.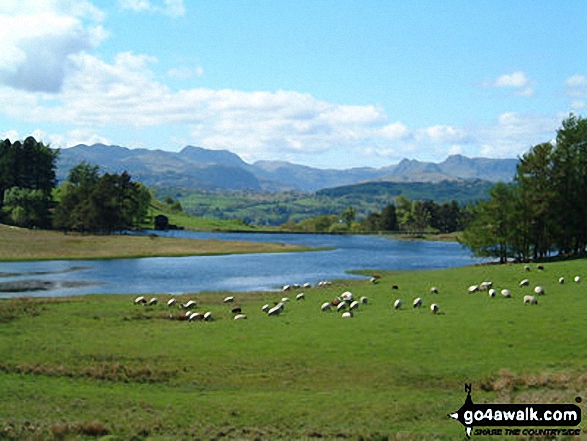 The view from Wise Een Tarn - although the weather was a little different!
Dave had kept very quiet about the view so it was a complete revelation and rather wonderful. I snapped a load of photos, then we plodded back down the path and called in at the local pub, The Cuckoo Brow, for a nice Sunday lunch.