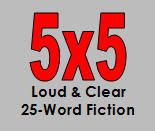 Issue 2 of 5x5 Fiction has just been uploaded and you can find
a link to it here
. (It loads into a Google reader page which I've never seen before; I learn something new, technologically speaking, every day!).
All the stories in this magazine are exactly 25 words long, with exactly five sentences of exactly five words each. And my story,
Wrong Number
, is up there with the rest of them. Do take a moment to cast your eye over it, and the other fantastic little gems in the collection.
I'm still wrestling with writing other stories in this format and hope to submit some of them to future issues. It's a real challenge and Angel Zapata, who edits 5x5Fiction, has come up with a really original concept.